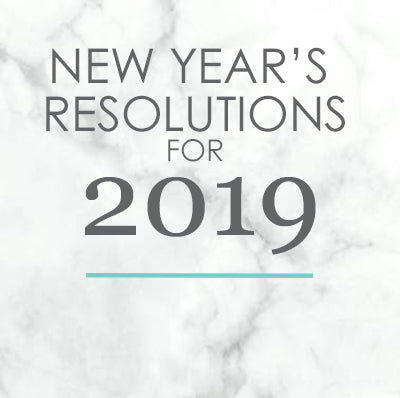 New Year's Resolutions
What's your resolution for 2019?

SHOP OUR NEW YEARS RESOLUTION COLLECTION

Resolving to get fit in 2019?  Studies show that a reward system is 75% more effective than a workout routine without incentive.  Treat yourself to a beautiful piece of jewelry for every 60 days of exercise.  You will be amazed at the results! 

Shown above:  Limited Edition Hammered Copper Hoops, handmade in Mali in collaboration with designer Phyllis Woods of Tribalinks.
Resolving to eat healthier in 2019?  Chamomile Cleanse is the perfect start.  Made by JusTea®, Organic chamomile and lemongrass is 100% organic, caffeine-free herbal blend to help cleanse your body of toxins and calm your mind of stress.  It also aids digestion and enhances absorption of iron. Smooth and sweet with notes of honey and flower blossoms.
Shown above:  
JusTea®
 is dedicated to maintaining the whole tea leaf rather than the normal maceration which destroys much of the leaf's natural complexities and depth. This allows the tea to be steeped multiple times, retaining the full flavor profile that whole leaf tea offers.
SHOP 
TEA
Resolving to help the environment in 2019?  Purchase recycled art for your home!  Every year, ocean tides bring thousands of flip flops from all over the world to the shores of the East African coast, creating an environmental disaster for marine and beach life. Residents and artisans make the most out of this situation by transforming the foam into safari sculptures.

Shown above: In Kenya, artisans convert discarded flip flops into one-of-a-kind art. Operating from a small Nairobi workshop, the dedicated group offers employment and creative opportunities while also protecting marine life and cleaning up the environment.
SHOP 
R
ECYCLED ART
Resolving to support a good cause in 2019?  The Leakey Collection has focused on zulugrass bracelets and jewelry in Kenya since 2002.  The sale of their products contributes to wonderful work in East Africa, including creating employment for thousands of women, promoting health and hygiene, bringing clean water into homes, and mentoring young girls through school. 
Shown above: Dusk Wood and Zulugrass bracelet.  Made from sustainable, natural grass beads. The richly hued grass is dyed with colorfast, low-impact dyes and interspersed with hand-blown Czech glass.
SHOP 
LEAKEY
How about some self-care in 2019? We've put this basket together just for you.  Indulge in these skin-soothing fair trade products that will make you glow from the inside out!  Shea Butter for your body, Marula Oil for your face, organic balm for your lips, delicious scented African soaps and a keepsake heart to remind you to always be good to yourself.
Shown above: Lainika (be pampered) Gift Basket.  Filled with fair trade and decadent body care.
SHOP 
S
KINCARE
Resolving to be more organized in 2019?  We have baskets of every shape and size to help you get started on organizing in the New Year!
Shown above:  Large Woven Ghanian Floor Baskets, handwoven in Ghana using tough elephant grass. Each basket includes a set of sturdy woven handles for easy transport.  The three baskets nest together for shipping and when not in use.
SHOP 
BASKETS