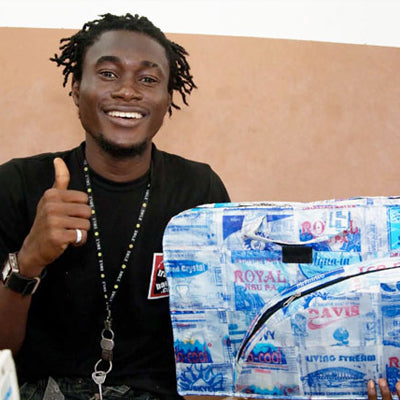 Swahili Backstory: Trashy Bags
Clean it up!
In West Africa, "sachet water" is big business. With significantly less packaging than bottled water, these cool little pouches seemed to be an environmental coup, until discarded sachets started clogging the streets, beaches and waterways. One creative company in Accra, Ghana, is transforming an environmental and health menace into a recycling and education movement.
Meet Trashy Bags


Smart Shoppers are reusable shopping totes made from discarded water sachets. Designed to zip into a packet when not in use, these sturdy tote bags utilize abundant waste material while giving an alternative to disposable plastic shopping bags, another source of the massive amount of plastic dropped onto Ghana's streets each day. The creative minds of Trashy Bags have devised a system that makes urban clean-up both fun and sustainable.
The Trashy Bags concept works so well because it generates income, opportunity and attention while addressing the pollution problem. Individuals who collect discarded pouches are paid enough to earn well above the annual average wage. New workers at the workshop wash bags until they learn how to do other production tasks and earn a promotion. An annual design competition inspires employees to put their creative acumen to work for Ghana.
The Trashy Bags team works together diligently to transform plastic trash into stylish bags, wallets & cases. Each bag is cut open, washed thoroughly and dried in the sun. The company's guiding mission is to encourage Ghanaians to harness their own ideas and energy to create positive change in their nation and the world at large, and the commitment each employee feels to their quality of work and their goal of cleaning up Ghana shows.
Cleaned pouches that pass inspection are stitched together to create a thick plastic sheet, and templates ensure each part of a product is cut to a standard size and shape. Once the pieces are cut out and ready for assembly, they pass to the Trashy Bag seam team, now working at powerful industrial sewing machines--an upgrade from the company's original foot-powered machines.
The Trashy Bags team has also found fantastic potential in discarded billboard material. This durable plastic offers the added benefit of colorful printed graphics that can be creatively cut to fashion one-of-a-kind backpacks, duffels and handbags. Since little goes to waste at the Trashy Bags workshop, the offcuts are stitched together to create a more colorful Smart Shopper option.
You know how much we love our babies at Swahili, and Trashy Bags is no different. "Trashy Babies" too young for school join their mothers and fathers at work. In-house childcare is a shared communal privilege among workers that adds even more joy to each workday.
While recycling discarded plastic serves as a timely response to the overwhelming amount of waste in Accra, the Trashy Bags team strives to educate the public about the long-term benefits of recycling and the potential in repurposing waste products for newly invented usage.
The company hopes to eventually see Smart Shoppers replacing disposable plastic bags in grocery stores, thus expanding employment opportunities and increasing recycling education while inspiring Ghanaians to creatively and cooperatively tackle widespread national issues. Through engaging appearances in films, fashion shows and shopping centers, the Trashy Bags team is presenting problem solving as both fashionable and fun.

We believe strongly in the people and mission of Trashy Bags. We love being able to now offer Smart Shoppers for sale at Swahili!