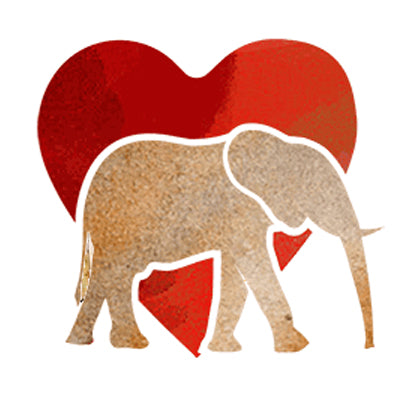 We've Adopted an Orphan Elephant
Our founder, Leslie, makes frequent trips to Africa to discover new fair trade products, meet unique artisans, and sometimes to visit friends.  On her last trip, she decided to expand our Swahili family, by adopting an orphan elephant! 
Leslie even got to meet the calf in person... 

This is Sattao.  The Rescue Team located the calf after a short search and it became clear that he was in desperate need of rescuing, and in fact with the infamous Tsavo lions plentiful in that area, it was a miracle that he was still alive. Small predators (we suspect jackals), had attacked his rear end and hind legs and hence due to his wounds coupled by poor condition, it was evident that they needed to respond fast.
He fed on milk and rehydration salts and despite being restless throughout the night, he did manage to sleep on the soft hay for short periods of time. The following day a team of Keepers from our Nairobi Nursery flew the one and half hour journey to Voi the Voi headquarters of Tsavo East National Park, arriving in the morning in order to collect the baby so that he could be afforded the intensive care he required. He was driven to the Voi airstrip by the Voi Keepers where the two teams swapped their precious cargo, having been given the opportunity to stretch his legs walking around the airstrip, all the while trustingly following the Keepers and later guzzling down another milk feed before the flight. Once he was safely loaded onto the plane, the Team placed him on IV fluids throughout the flight to help with his compromised condition.
It was a long while before we saw positive changes in his body condition, but the presence of the others, particularly best friend Luggard, helped his recovery. The bite marks on his legs were cleaned and treated daily until they slowly healed and today little Sattao is finally filling out, growing fatter and more active by the day and ready to be placed on the Trust's Fostering Program.
He has benefited from the love and comfort of our older females, Mbegu and Godoma, who are lavish in their attention of the young babies – carefully ushering them through each day, always carefully guiding them and reassuring them. It is a marvel to watch this beautiful, gentle nurturing nature of elephants, even in those so young, each having experienced trauma themselves - how they are still so selfless in their gentle love and care.
Stay in touch...