| INTERNATIONAL | XS | S | M | L | XL | XXL | XXXL |
| --- | --- | --- | --- | --- | --- | --- | --- |
| EUROPE | 32 | 34 | 36 | 38 | 40 | 42 | 44 |
| US | 0 | 2 | 4 | 6 | 8 | 10 | 12 |
| CHEST FIT (INCHES) | 28" | 30" | 32" | 34" | 36" | 38" | 40" |
| CHEST FIT (CM) | 716 | 76 | 81 | 86 | 91.5 | 96.5 | 101.1 |
| WAIST FIR (INCHES) | 21" | 23" | 25" | 27" | 29" | 31" | 33" |
| WAIST FIR (CM) | 53.5 | 58.5 | 63.5 | 68.5 | 74 | 79 | 84 |
| HIPS FIR (INCHES) | 33" | 34" | 36" | 38" | 40" | 42" | 44" |
| HIPS FIR (CM) | 81.5 | 86.5 | 91.5 | 96.5 | 101 | 106.5 | 111.5 |
| SKORT LENGTHS (SM) | 36.5 | 38 | 39.5 | 41 | 42.5 | 44 | 45.5 |
Shipping
Orders usually ship within 2-3 business days from our warehouse in Eugene, Oregon.
We ship via USPS and UPS. You will receive an email with a tracking number when your order has shipped.
Shipping is calculated during checkout based on size, weight, and the cost of your order. However:
Jewelry-only orders over $70 ship free!
Extra charges may apply for oversized or duplicate items (such as two large baskets that do not fit inside one another). If needed, we will contact you about additional shipping costs.
Some oversized items, such as oil drum sculptures, are shipped on pallets. Learn more here.
Local Order Pickup: learn more here
International shipping: We ship within the United States only. 
For expedited shipping: please email us at info@swahilimodern.com 
Shipping to Alaska Hawaii, and Puerto Rico: learn more here
JOINING FORCES WITH THE LEAKEY COLLECTION
The Leakey Collection has focused on zulugrass bracelets and jewelry in Kenya since 2002. Their iconic grass beads are dyed with low-impact dyes and strung on durable elastic. The sale of their products contributes to wonderful work in East Africa, including creating employment for thousands of women, promoting health and hygiene, bringing clean water into homes, and mentoring young girls through school.
Philip and Katy Leakey, founders of The Leakey Collection who live among the Maasai in East Africa, wanted to provide their neighbors with work opportunities. They came up with an imaginative idea to utilize the excellent beading abilities of the Maasai women by using a readily available, sustainable resource- GRASS- as the primary element.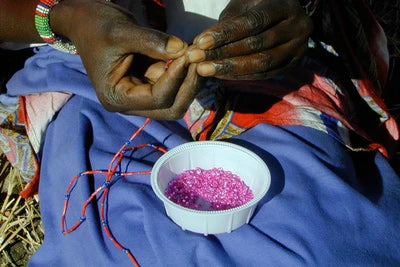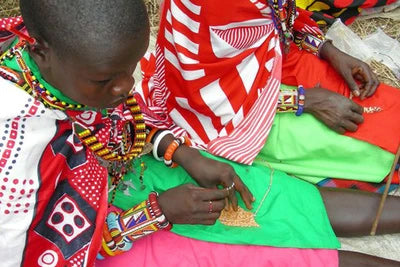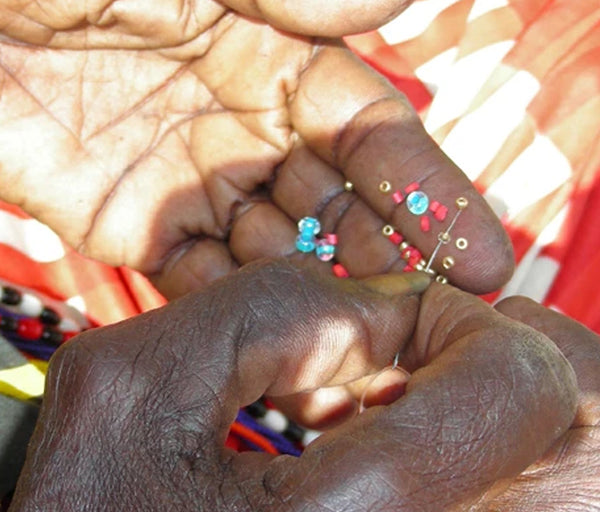 From Humble Beginnings
THE STORY OF THE LEAKEY COLLECTION
In 2001, a terrible drought persisted for several years and brought devastation to the pasture lands. The livelihood of the Maasai disappeared as their cattle died. The men had to drive the few remaining cattle hundreds of miles away in search for better grazing...