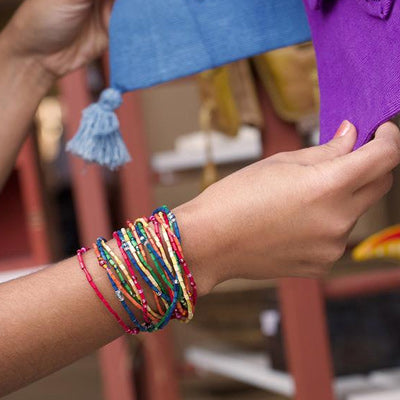 The Story Of The Leakey Collection
In 2001, a terrible drought persisted for several years and brought devastation to the pasture lands. The livelihood of the Maasai disappeared as their cattle died. The men had to drive the few remaining cattle hundreds of miles away in search for better grazing while the women looked desperately for ways to feed, clothe, and educate their children and obtain medical supplies. Philip and Katy Leakey, founders of The Leakey Collection who live among the Maasai in East Africa, wanted to provide their neighbors with work opportunities. They came up with an imaginative idea to utilize the excellent beading abilities of the Maasai women by using a readily available, sustainable resource- GRASS- as the primary element.
Previously used in the furniture industry due to its strength, the reed-like grass was dried, cut into bead-size pieces, dyed with environmentally-friendly textile dyes, and strung on durable elastic with hand-blown Czech glass beads. Mobile work stations were set up so the women could bring their babies and toddlers with them and work when they chose. As word passed through the Maasai community, women started walking as much as two hours each way to have their first chance to earn money. Now, even the men have joined in the entrepreneurial opportunities.
We are pleased to announce that as of July 2017, we started selling The Leakey Collection products on Swahili Modern. We have been closely acquainted with the Leakeys for years and will be exclusively distributing their famous, fair trade product line in North America as the Leakeys pursue other goals, including expansion of their product designs and organic farming in Kenya. Wholesale distribution will take place on our wholesale website.
The Leakey Collection has focused on zulugrass bracelets and jewelry in Kenya since 2002. Their iconic grass beads are dyed with low-impact dyes and strung on durable elastic. The sale of their products contributes to wonderful work in East Africa, including creating employment for thousands of women, promoting health and hygiene, bringing clean water into homes, and mentoring young girls through school.