| INTERNATIONAL | XS | S | M | L | XL | XXL | XXXL |
| --- | --- | --- | --- | --- | --- | --- | --- |
| EUROPE | 32 | 34 | 36 | 38 | 40 | 42 | 44 |
| US | 0 | 2 | 4 | 6 | 8 | 10 | 12 |
| CHEST FIT (INCHES) | 28" | 30" | 32" | 34" | 36" | 38" | 40" |
| CHEST FIT (CM) | 716 | 76 | 81 | 86 | 91.5 | 96.5 | 101.1 |
| WAIST FIR (INCHES) | 21" | 23" | 25" | 27" | 29" | 31" | 33" |
| WAIST FIR (CM) | 53.5 | 58.5 | 63.5 | 68.5 | 74 | 79 | 84 |
| HIPS FIR (INCHES) | 33" | 34" | 36" | 38" | 40" | 42" | 44" |
| HIPS FIR (CM) | 81.5 | 86.5 | 91.5 | 96.5 | 101 | 106.5 | 111.5 |
| SKORT LENGTHS (SM) | 36.5 | 38 | 39.5 | 41 | 42.5 | 44 | 45.5 |
Shipping
Orders usually ship within 2-3 business days from our warehouse in Eugene, Oregon.
We ship via USPS and UPS. You will receive an email with a tracking number when your order has shipped.
Shipping is calculated during checkout based on size, weight, and the cost of your order. However:
Jewelry-only orders over $70 ship free!
Extra charges may apply for oversized or duplicate items (such as two large baskets that do not fit inside one another). If needed, we will contact you about additional shipping costs.
Some oversized items, such as oil drum sculptures, are shipped on pallets. Learn more here.
Local Order Pickup: learn more here
International shipping: We ship within the United States only. 
For expedited shipping: please email us at info@swahilimodern.com 
Shipping to Alaska Hawaii, and Puerto Rico: learn more here
WOLOF WEAVERS OF RURAL SENEGAL
This coil style of basket weaving has been practiced in Senegal for generations. Traditionally, Wolof women created baskets by binding stalks of cattail grass, a thick local grass, with long strips of reed. Though reed strips could be harvested locally, they were very hard on the hands of the weavers. About 20 years ago, an idea revolutionized Wolof basket weaving. A factory in Dakar, the capital of Senegal, creates mats using plastic strips that strongly resemble the reed strips. Using the plastic strips to replace the sharp natural material, conditions for the weavers drastically improved and the baskets began to burst into vibrant colors.
Since 2008, Swahili has worked with a group of talented Wolof weavers in remote Senegal to design hampers and baskets woven from the salvaged plastic strips and cattail stalks. First introduced by the Peace Corps, Swahili and more than 120 Wolof women prove that cooperative, home-based craft export is an excellent way for rural women to earn fair trade incomes that build healthy communities.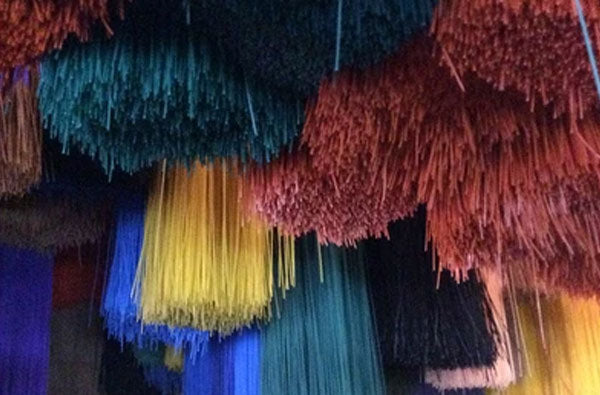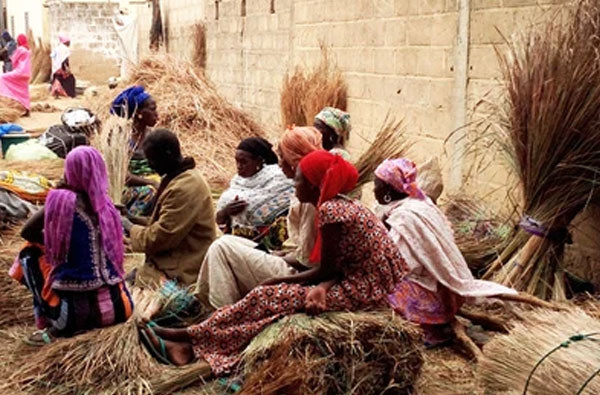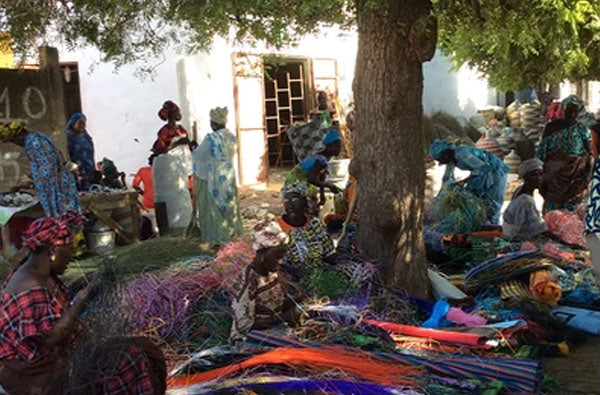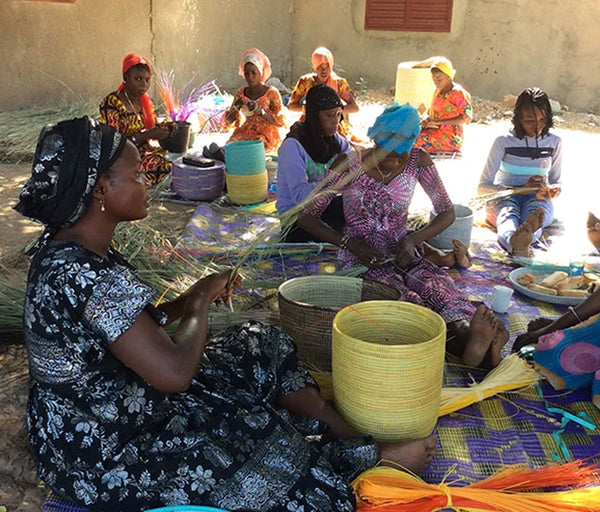 WEAVING WOMEN
Among the Wolof, basket weaving is traditionally a women's craft. Often the men from families in rural Senegalese villages must work in major cities or abroad, and send money back to their families. The women supplement that income by weaving baskets. Often their children are nearby as they weave, Wolof girls beginning to learn the skill from their mothers and aunts from a young age. Wolof women take pride in their craftsmanship and ability to help provide for their families using this traditional skill.