| INTERNATIONAL | XS | S | M | L | XL | XXL | XXXL |
| --- | --- | --- | --- | --- | --- | --- | --- |
| EUROPE | 32 | 34 | 36 | 38 | 40 | 42 | 44 |
| US | 0 | 2 | 4 | 6 | 8 | 10 | 12 |
| CHEST FIT (INCHES) | 28" | 30" | 32" | 34" | 36" | 38" | 40" |
| CHEST FIT (CM) | 716 | 76 | 81 | 86 | 91.5 | 96.5 | 101.1 |
| WAIST FIR (INCHES) | 21" | 23" | 25" | 27" | 29" | 31" | 33" |
| WAIST FIR (CM) | 53.5 | 58.5 | 63.5 | 68.5 | 74 | 79 | 84 |
| HIPS FIR (INCHES) | 33" | 34" | 36" | 38" | 40" | 42" | 44" |
| HIPS FIR (CM) | 81.5 | 86.5 | 91.5 | 96.5 | 101 | 106.5 | 111.5 |
| SKORT LENGTHS (SM) | 36.5 | 38 | 39.5 | 41 | 42.5 | 44 | 45.5 |
Shipping
Orders usually ship within 2-3 business days from our warehouse in Eugene, Oregon.
We ship via USPS and UPS. You will receive an email with a tracking number when your order has shipped.
Shipping is calculated during checkout based on size, weight, and the cost of your order. However:
Jewelry-only orders over $70 ship free!
Extra charges may apply for oversized or duplicate items (such as two large baskets that do not fit inside one another). If needed, we will contact you about additional shipping costs.
Some oversized items, such as oil drum sculptures, are shipped on pallets. Learn more here.
Local Order Pickup: learn more here
International shipping: We ship within the United States only. 
For expedited shipping: please email us at info@swahilimodern.com 
Shipping to Alaska Hawaii, and Puerto Rico: learn more here
Artisans in Burkina Faso convey the serene beauty of feminine Africa in bronze, cast with the lost wax method: the sculpture is carved in beeswax and a clay mold is formed around it, then the wax is melted away, leaving a void to fill with molten bronze.
When we receive shipments from Burkina, I love looking at each sculpture and imagining how the piece came together as it was shaped in wax. The amount of time invested in small details always comes through, and rush jobs are equally evident. This artistic style focuses mainly on a smoothly contoured figure in repose, which can be replicated quite closely. To give each piece individuality, roughly-textured frocks wrap each figure with folds and flares in slightly different array--guaranteeing that each piece is completely one-of-a-kind.
Sculptures of figures of all shapes and sizes emerge from the foundry, from tiny dancing ladies to towering statues. In true Burkinabe spirit, an appreciation for distinctiveness shines through each creation. While an August terrorist attack in Burkina's capital city, Ougadougou, may make the country seem like a dangerous place to visit, our agent Abraham affirms our shock to again hear of this lovely city and its kind people falling to harm.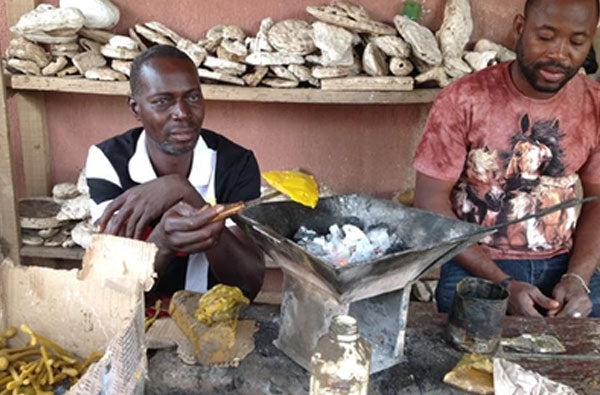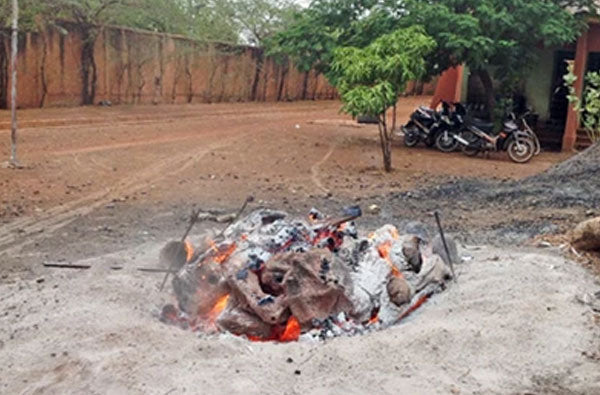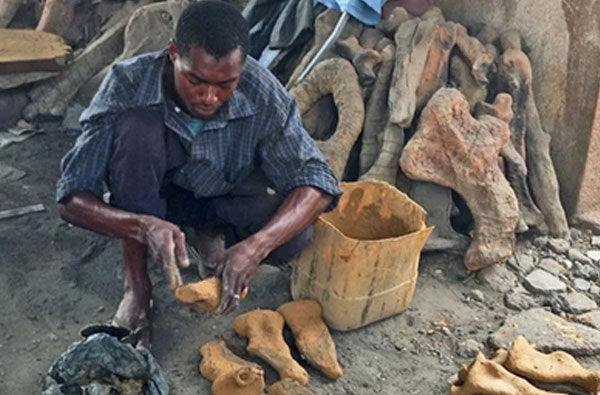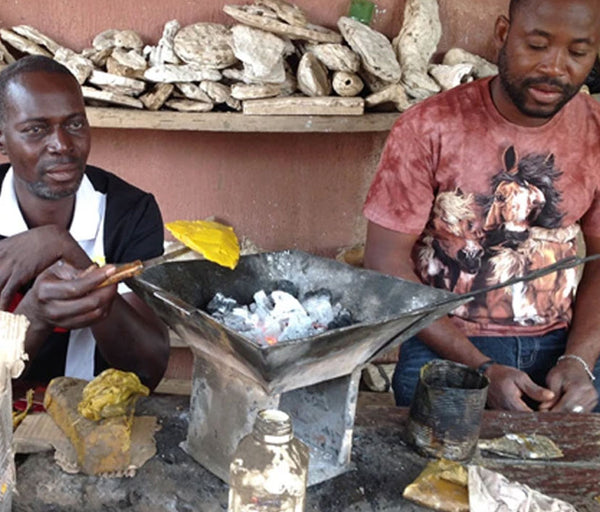 THROUGH THE FIRE
Burkinabe cast metal sculptures draw eyes to their elegantly transcendent posturing. From mothers with babes to robust beauties and slender maidens, Burkinabe sculpture de femme reveres the diversity of womanhood through intricacies wrought in a rudimentary yet time-honored process.