| INTERNATIONAL | XS | S | M | L | XL | XXL | XXXL |
| --- | --- | --- | --- | --- | --- | --- | --- |
| EUROPE | 32 | 34 | 36 | 38 | 40 | 42 | 44 |
| US | 0 | 2 | 4 | 6 | 8 | 10 | 12 |
| CHEST FIT (INCHES) | 28" | 30" | 32" | 34" | 36" | 38" | 40" |
| CHEST FIT (CM) | 716 | 76 | 81 | 86 | 91.5 | 96.5 | 101.1 |
| WAIST FIR (INCHES) | 21" | 23" | 25" | 27" | 29" | 31" | 33" |
| WAIST FIR (CM) | 53.5 | 58.5 | 63.5 | 68.5 | 74 | 79 | 84 |
| HIPS FIR (INCHES) | 33" | 34" | 36" | 38" | 40" | 42" | 44" |
| HIPS FIR (CM) | 81.5 | 86.5 | 91.5 | 96.5 | 101 | 106.5 | 111.5 |
| SKORT LENGTHS (SM) | 36.5 | 38 | 39.5 | 41 | 42.5 | 44 | 45.5 |
Shipping
Orders usually ship within 2-3 business days from our warehouse in Eugene, Oregon.
We ship via USPS and UPS. You will receive an email with a tracking number when your order has shipped.
Shipping is calculated during checkout based on size, weight, and the cost of your order. However:
Jewelry-only orders over $70 ship free!
Extra charges may apply for oversized or duplicate items (such as two large baskets that do not fit inside one another). If needed, we will contact you about additional shipping costs.
Some oversized items, such as oil drum sculptures, are shipped on pallets. Learn more here.
Local Order Pickup: learn more here
International shipping: We ship within the United States only. 
For expedited shipping: please email us at info@swahilimodern.com 
Shipping to Alaska Hawaii, and Puerto Rico: learn more here
A TRADITION OF BASKET WEAVING IN GHANA
Starting from a small woven circle, Ghanaian basket weavers work their way out from a central point to reveal beautiful, distinctive Bolga baskets. Sometimes called "market baskets," Bolga baskets are woven from veta vera, or elephant grass. While the grass is grown primarily in southern Ghana, weavers in the northern region of Bolgatanga excel at transforming the tough grass fiber into the iconic baskets. The people from the region rely on the sale of handcrafted items to supplement their income, and their craftsmanship is demonstrated by the high quality of these artfully woven baskets.
The weaving of Bolga baskets in Ghana has been a traditional skill for many generations, and is often a communal process. The Bolga baskets sold by Swahili Modern are fair trade and a reliable source of income for weavers and their families. Just as the baskets begin as a small circle and expand, so does the impact of purchasing fair trade items that directly benefit, support and empower the artisans who create them.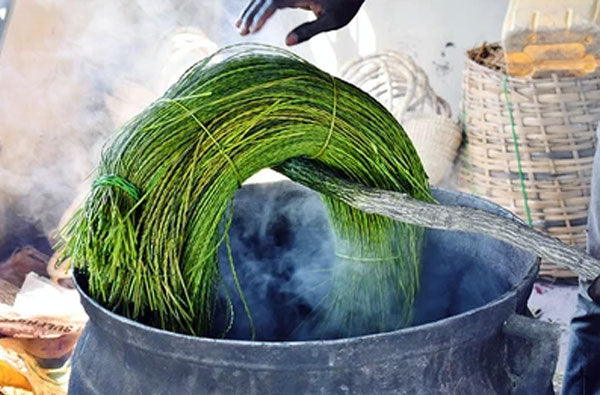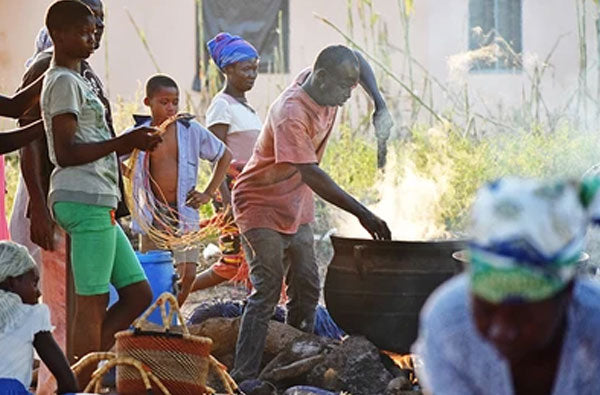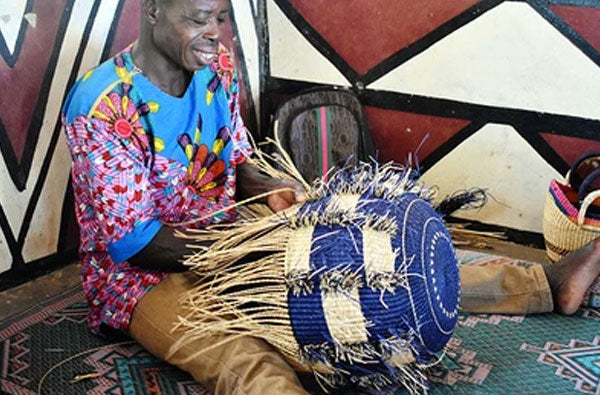 HANDWOVEN WITH CARE
Durable Bolga baskets are hand-woven and stand the test of time. Stalks of elephant grass are split, and twisted before the weaving process even begins. The grass is then often hand-dyed to create vibrant colors and intricate patterns. Lastly, the many fibers of grass that fan out from the finished weave are carefully trimmed and tucked away to reveal each beautiful basket.