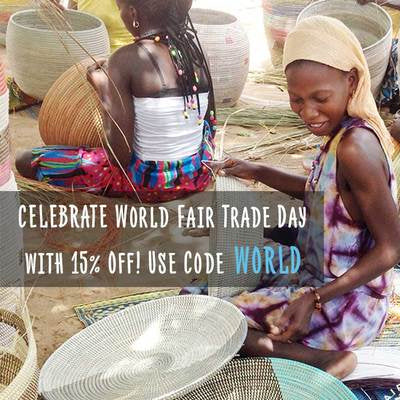 Celebrating World Fair Trade Day
World Fair Trade Day is an initiative of WFTO that falls on the second Saturday of May of each year. The day is celebrated worldwide by all fair trade organizations, including the Fair Trade Federation to which Swahili Modern belongs.
Fair trade aims to "create positive change through all of its work: socially, economically, and environmentally. Members work with small farmers and artisans in holistic partnerships built on trust. These relationships go beyond ensuring fair wages and safe working conditions — they empower producers to strengthen their communities and grow their businesses sustainably."
Here's a great video that introduces the fair trade movement and why it matters:
To celebrate this special day, businesses all over the world are hosting events, offering discounts, and running contests to drum up support from the general public. 
We are offering 15% off this weekend only, May 13th through May 15th, in honor of Fair Trade Day. Be sure to check out Twitter for some more deals and special events, using the hashtag #FairTradeDay: https://twitter.com/search?src=typd&q=fairtradeday